Another Makey-Makey project in our series of outrageous user interfaces.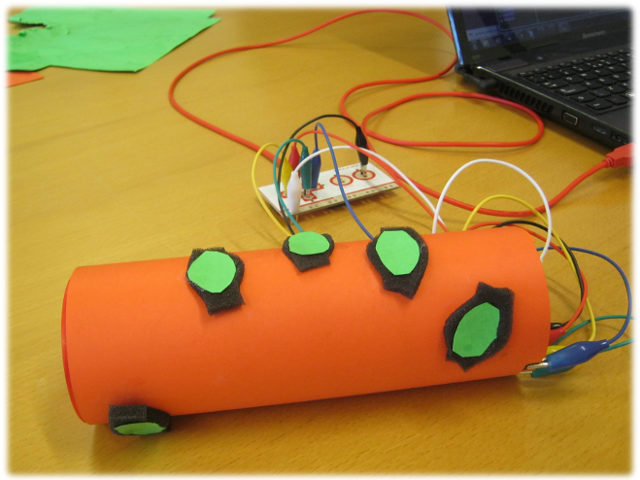 This one arose from some discussion in the wake of the ghost controller. I have a student who is thinking about what sort of user-interface you could build for exploring a 3D environment with a Makey-Makey.
You can see where this is going – tune in next week for the washing-up glove of power,,,
One of the possibilities we discussed was having an object to grip – like a baton. This could incorporate a glove, but I decided to have a go with recycling some packaging foam and a cylindrical tube more commonly used for holding stackable cruchy potato-based snacks…
I've taken several shots of the process, so I will put them together as a slideshow later. But the photo aboves should give a reasonable idea of how it's put together. First I drew an outline of my hand on card to position where the buttons for each finger should go.
On this card, I used a 2B pencil to draw the circuit for my buttons – testing each location with a piece of card which had conductive tape attached to it. I then took another card, slightly thinner – and cut out holes to eexpose only the button areas. On the surface of this, I added the foam packaging to raise the card/conductive tape top half of the button above the graphite part.
As a mechanism, the buttons work reasonably well when everything is in place.
The card layers were then stuck round the outside of the cylinder and clipped to the makey-makey. A simple Scratch script was used to test the device.
Refinements
I think a redesign of the graphite side of the buttons could improve the responsiveness of the cylinder. Also, the layout for the buttons is for a hand resting on the cylinder. Next time, I shall design for the hand to be gripped round the baton.
It would be possible to add extra features. This one used four fingers for up/down/left/right and the thumb to emulate a mouse click. It would also be possible to add a tilt switch mechanism for the device.